Towel rails, once considered a commodity to be enjoyed at a star hotel, have gained popularity quite rapidly in the recent years. The comfort of having a dry warm towel on cold days is irreplaceable. It is now a common bathroom accessory in homes and commercial establishments. This popularity itself has led to a wide range of towel rails varying in size and finish. Choosing the one that is just right for you, would need some thinking through.

The first point to consider could be the utility of the towel rail. Is it for the master bathroom, or an additional one for bedroom to keep clothes warm just before going out into the chilly weather. While the primary job of the rail is to dry and warm towels, it is also used to heat the bathroom. This revolve chrome finish rail from QS Supplies allows ample space for more number of towels (H160cm x W30cm x D31cm).

To calculate what size towel rail you need, you could use professional online radiator calculators. If the bathroom is already heated, then your requirement of the rail heat output may be proportionally reduced. This chrome central heating rail from Bristan includes a white inset radiator with a chic twist to a traditional design.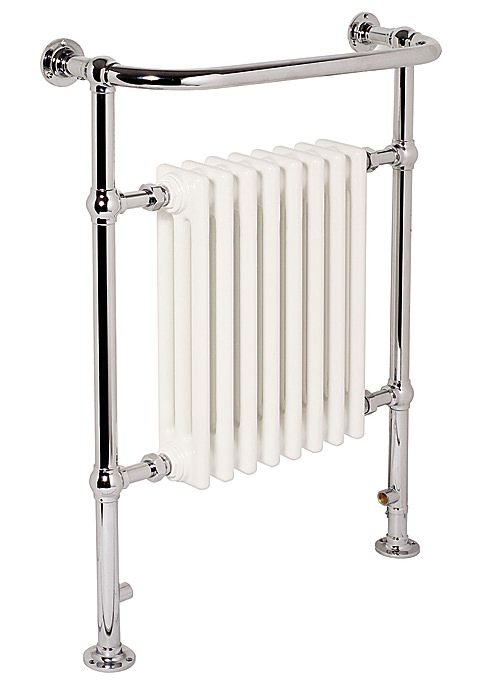 The power source for towel rails are electric or from the hot water heating plumbing system. An additional T valve, could be used to optimally use both sources. As this valve is an add-on, do ensure that it would be compatible to the heater rail. Many rails come with timer attached or sold separately, set just so that the heat is turned on before bath time without wasting too much power. The Ravenna towel rail (H1023mm x W695mm x D24.1cm) from
QS Supplies
comes complete with valves.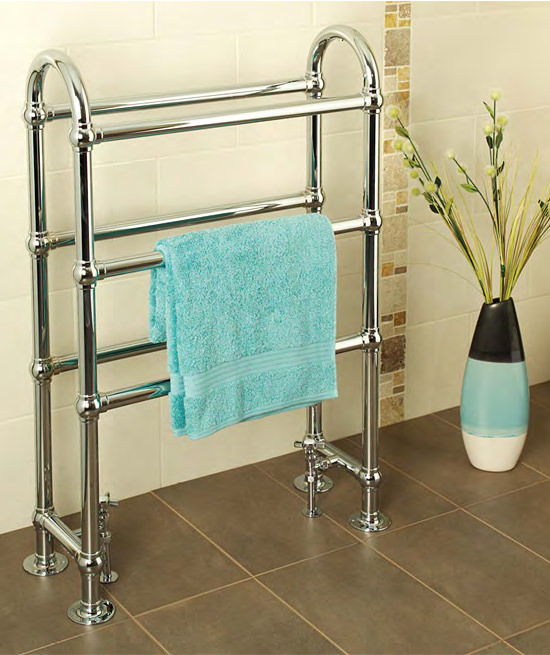 A benefit of the towel rails that is not apparent is the dry environment that discourages any bacterial growth making the bathroom hygienic and germ free. This makes the towel rail easily adaptable to humid tropical locations in winters and just the cold countries where it was invented. Marbella (H129cm x W60cm x D12cm) from Aeon, is a very classy, natural-stone finish radiator with optional rails giving you the choice of central heating, electric or dual fuel.
A modern bathroom is a place for recuperation. While there is ample choice for a simple utilitarian towel rail many go the extra mile and choose the designer model. Such as the Olbo horizontal (H53cm x W72cm x D23.5cm), from The Radiator Company, which makes a statement with eye-catching design, is available in both oval and circular versions.
Depending on the color scheme of your bathroom towel rails range in finishes from steel to classic white, from chrome to even the bold black. If you are a do-it-yourself enthusiast, you could install the rails yourself. But given the specifications in power options and fitting choices, it would be wise to consult a professional. Not only would that provide you a no-mess fixing, the professional will suggest accurate safe area in your bathroom from both electric and plumbing point of view.
Whatever your wallet size is, there is a towel rail warming up just for you.